Information related to today's mustard price
The sowing of mustard crop is done in the month of November to December, and the month of March to April is the harvest of the crop. This time Mustard Harvesting of the crop has been done, and there has been an increase in the price of mustard in the market every day. The price of mustard is also very much discussed in agricultural produce.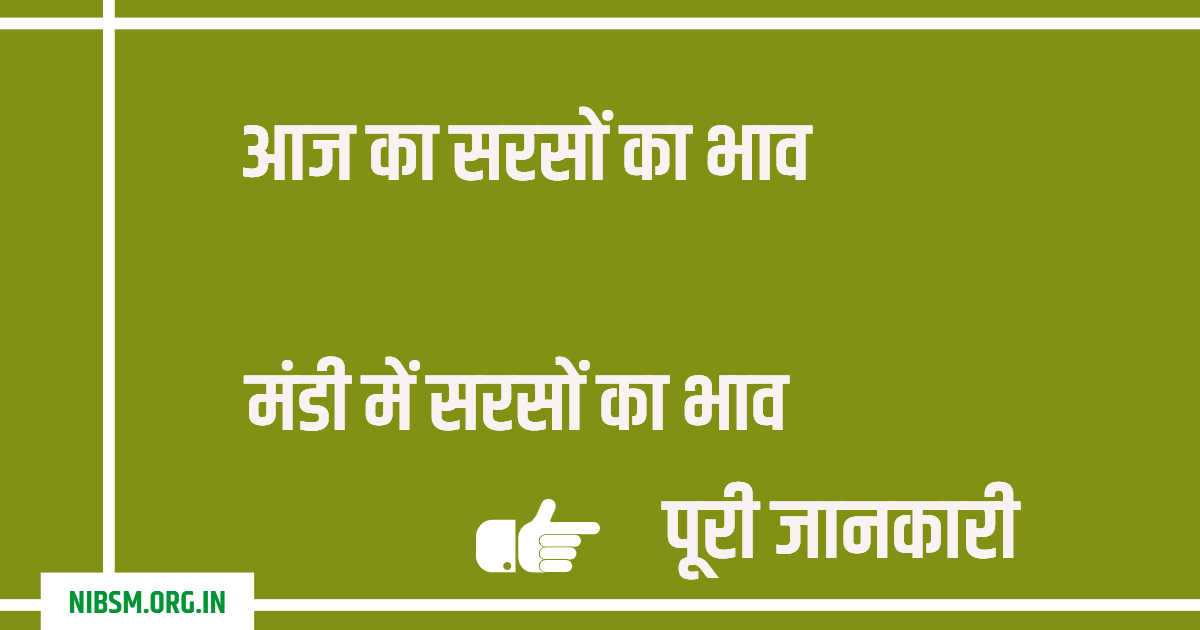 This time the production of mustard crop has been very good, and the price of mustard has also MSP In such a situation, discussions are being held regarding the price of mustard, that what will be the future of mustard prices. There is a competition among farmer brothers to know the price of mustard every day. To all of you through this article Today's Mustard Price 2022 – What is the price of Mustard in Mandi (Today Sarso Ka Bhav) Its information is being given.
Today's Soybean Price
The reason for the rise in the price of mustard (Mustard Price Rising Reason)
The reason behind the increase in the price of mustard is being said to the new crop of mustard that has come in the market. The government price of mustard is Rs 5050 per quintal, but with the advent of the new crop, mustard was started to be bought at the price of Rs 6000 to 7000 per quintal.
Due to the high price of mustard in the beginning, big and sensible farmers started storing it and started bringing less in the market.
Mustard production in India has been very good in 2022. This is 7 to 8% more than last year, and more increase can be seen in the coming crop. Mustard crop is expected to give 10 to 15% higher yield under favorable weather conditions.
Due to the war going on between Russia and Ukraine, large quantities of mustard oil have not been supplied. Due to which there is a stock of oil in large quantity, due to which the oilseed crop has shined.
It is difficult to tell the price of mustard in future, but this time farmers are getting more price than the support price of mustard.
Today's Mustard Price 2022 (Today Sarso Ka Bhav)
The government has kept the minimum support price of mustard at Rs 5050 per quintal for 2022-23. In the month of April – May Today's price of mustard seed is Rs.6200 to Rs.7200 per quintal is going on, which may increase further in the coming time.
new update 9 june : Looking at the current situation, the price of mustard remains stable. ,6250 to 7900 per quintal,
UP Gehu Kharid Registration Online
What is the price of Mustard in Mandi (Aaj Sarso ka Bhav Kya Hai Mandi me)
| | |
| --- | --- |
| mustard market | price of mustard |
| Sirsa | Rs.6680 per quintal |
| Jaipur | Rs 7350 per quintal |
| Delhi | Rs.7000 per quintal |
| Khurja Bhav | Rs.6600 per quintal |
| Agra/Shamshabad/Digner | Rs 7850 per quintal |
| Alwar Saloni | Rs 7950 per quintal |
| Kota Saloni | 7850+100 per quintal |
| Agra BP | Rs 7650+100 per quintal |
| Agra Sharda | Rs 7650+100 per quintal |
| goel quota | Rs 7200 per quintal |
| barwala | Rs.6770 per quintal |
| Gwalior | Rs.6600-6700 per quintal |
| Kolkata | Rs 7500 per quintal |
| Kanpur | Rs 7300 per quintal |
| Adani Wilmar | Rs 7200 per quintal |
| tonk | Rs 7200 per quintal |
| sheopur | Rs.6600 per quintal |
| Porsa | Rs.6600 per quintal |
| Alwar | Rs 7200 per quintal |
| Morena Mandi | Rs.6600+50 per quintal |
| khairthal | Rs.7000 per quintal |
| Ruchi Soya Banra | Rs 7150 per quintal |
| Ganganagar | Rs 7150 per quintal |
| fold | Rs 7050 per quintal |
| newy | 6950+100 per quintal |
| tonk | Rs.6930 per quintal |
| Agra BP | Rs 7550 per quintal |
| Agra Sharda | Rs 7550 per quintal |
| Kaman/Kumher/Nadbai/Deg | 6913+38 per quintal |
| hisar condition | Rs.6800 per quintal |
| Hisar | Rs 6700 per quintal |
| Bharatpur | Rs.6913 per quintal |
UP Dhan Kharid Registration